You can use the Real-Time Routing workflow to distribute tickets in real time. Instead of periodically checking views for tickets, you can trigger round robin ticket assignment when a new ticket is created based on its group.
This is especially useful for social messaging channels like WhatsApp where tickets need to be routed to an agent immediately. It may also consume less API calls (compared to standard method with views) depending on your ticket volume, number of queues, and team size.
Real-Time Routing is not available by default. Please contact us to opt in and enable the feature.
Setup
There are 4 steps to set up Real-Time Routing:
1. Generate Playlist API key
If you have not already done so, generate your Playlist API key.
2. Enable Real-Time Routing
Go to Playlist Setup > Workflows > Real-Time Routing. Click on Enabled.
When you enable the workflow for the first time, a Playlist Real-Time Routing Target is automatically created for you. You'll reference this target in your trigger (step 4).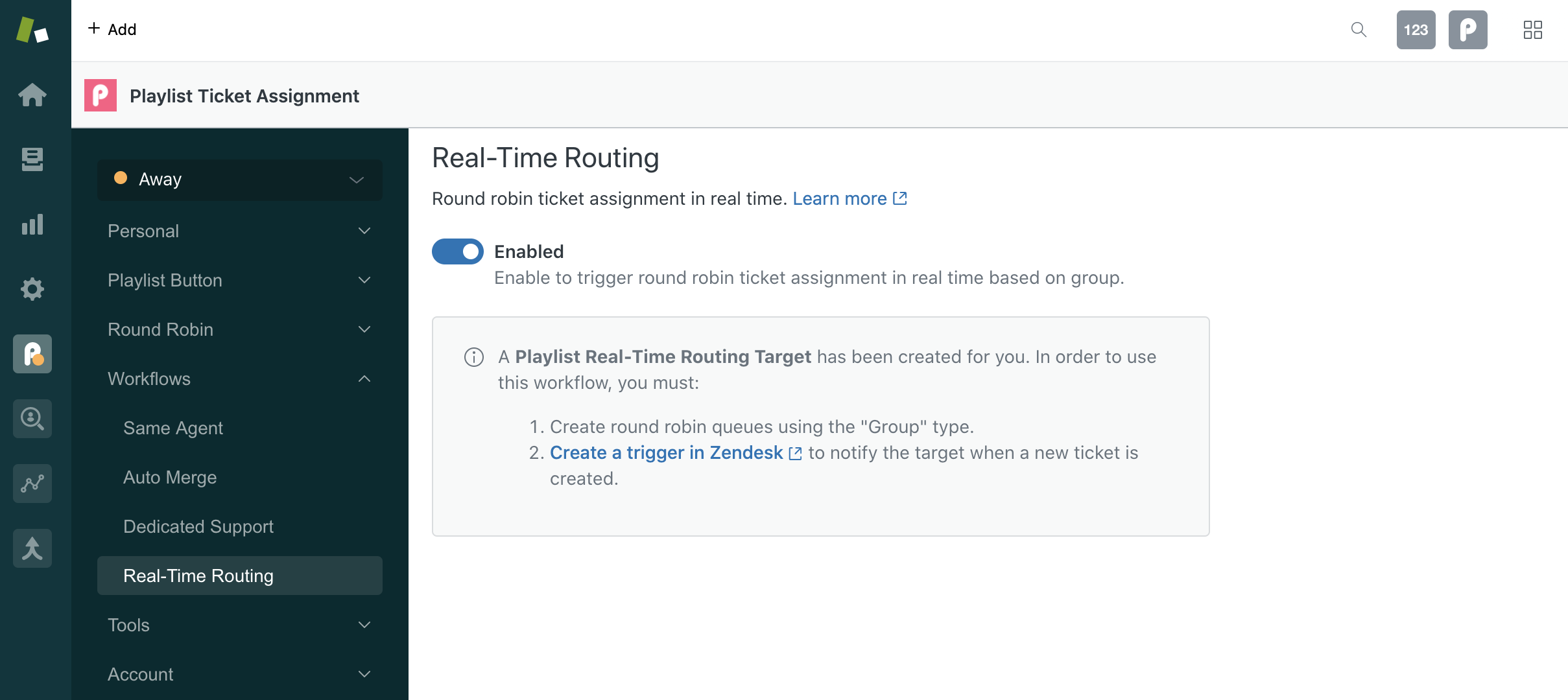 3. Create trigger-based queues
When you opt in to the feature, you'll notice a new Type field with two options:
Scheduled: Classic option where a scheduled job periodically checks the selected view for tickets.
Trigger: Specifically for the real-time routing workflow. Use a trigger to assign tickets immediately based on the ticket's group.
For example, you can create a queue based on a WhatsApp group. When a new ticket is created for the WhatsApp group, it will be immediately routed to the appropriate agent working out of the queue.
Configuring a trigger-based queue is similar to how you'd normally set up a queue, except that you'll be selecting a group instead of a view.
Type => choose Trigger
Group => select the group that should trigger real-time routing
Routing model => Round Robin or Least Active
Rotate between => choose Agents or Group members
Assign to => select specific agents or groups that should receive tickets from the queue
Note: Use SLA and the Skills-Based routing model are not available for trigger-based queues.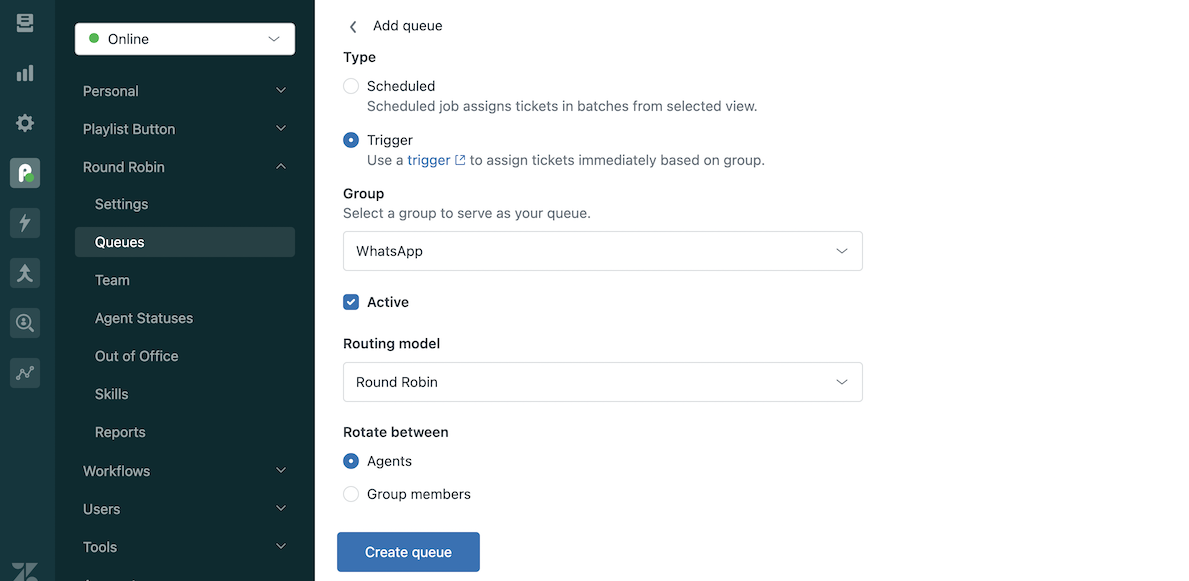 4. Create trigger to notify target
The final step is to create a trigger to notify the Playlist Real-Time Routing Target. Here's a sample trigger to help you get started.
Trigger name: Real-Time Routing Trigger
Conditions (meet ALL):
Ticket > Is > Created
Assignee > Is > -
Conditions (meet ANY):
Group > Is > Group that should trigger real-time routing
Group > Is > Another group
Group > Is > ...
Actions:
Notify target > Playlist Real-Time Routing Target

URL parameters (remove, not needed for this workflow)