With the Auto Merge workflow, you can specify matching fields and automatically merge tickets if their fields match.
The workflow uses a trigger to notify an Auto Merge target when a new ticket is created. The target will search through the requester's tickets to see if there's an existing ticket with matching fields.
For example, you can select Shopify order ID as a matching field (your "unique" ticket identifier). When a requester submits a new ticket with a Shopify order ID, your trigger will notify the Auto Merge target. The target will search through the requester's tickets for a matching Shopify order ID. If there is a match, the new ticket will be automatically merged into the existing one.
Auto Merge works independently of Round Robin and other Playlist workflows.
Setup
There are 3 steps to enable and set up the Auto Merge workflow:
1. Generate Playlist API key
To enable the Auto Merge workflow, you'll first need to generate your Playlist API key. Your API key is used to identify your account and should never be shared with the public.
Go to Playlist Setup > Tools > API Key
If you only see a "Deactivate" button, your account already has a Playlist API key. Skip to the next step.
If you see a "Generate API key" button, click on it. Once the key is generated, copy it and store it somewhere secure for future usage.
Note: you actually won't need to reference your API key for this process, but you may want to use it for future integrations (your workforce management software, internal tools, etc.).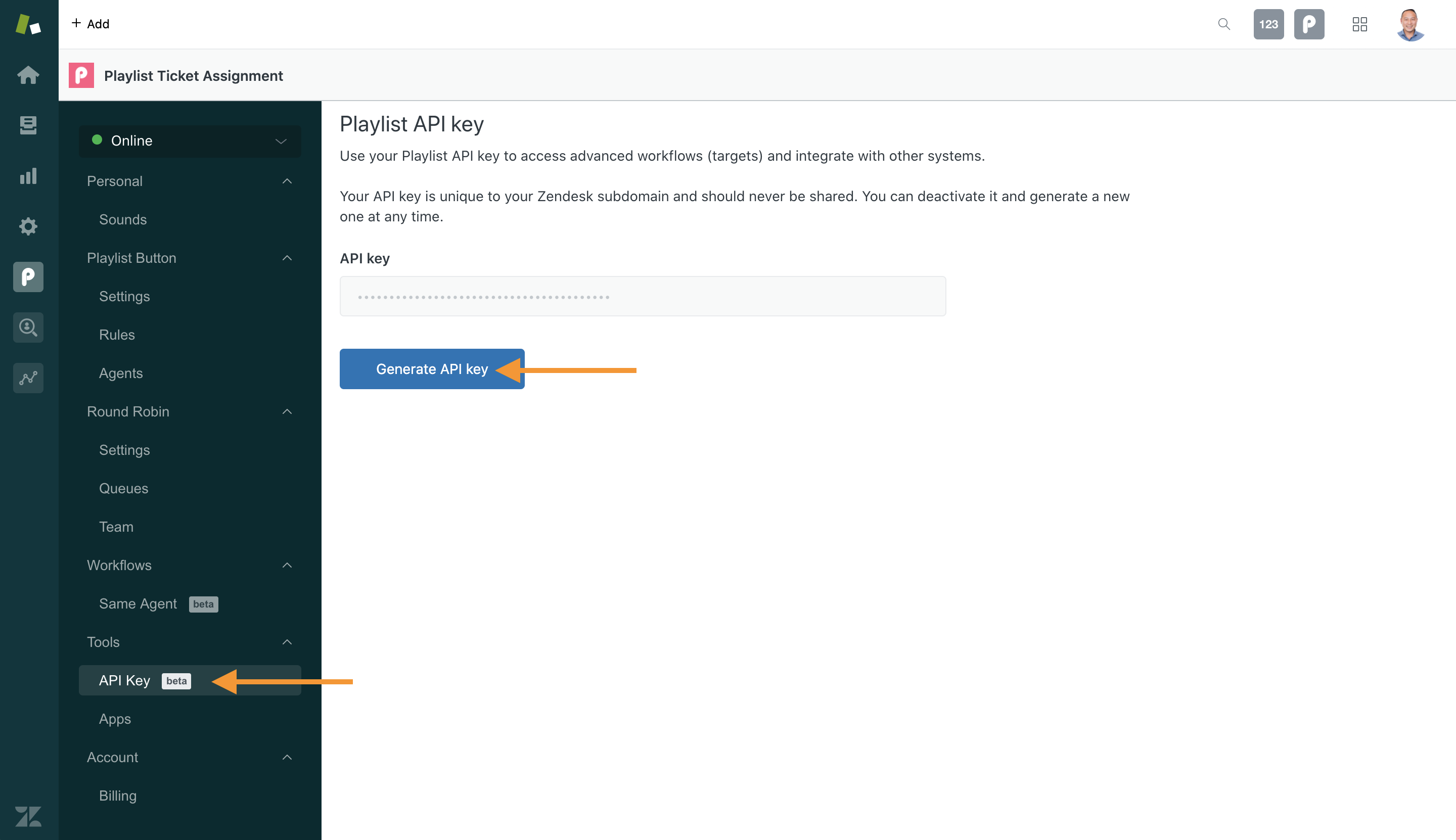 2. Enable Auto Merge
Go to Workflows > Auto Merge. Click on Enabled.
When you enable Auto Merge for the first time, a Playlist Auto Merge Target is automatically created for you. This target will be used by a trigger that you create in the next step.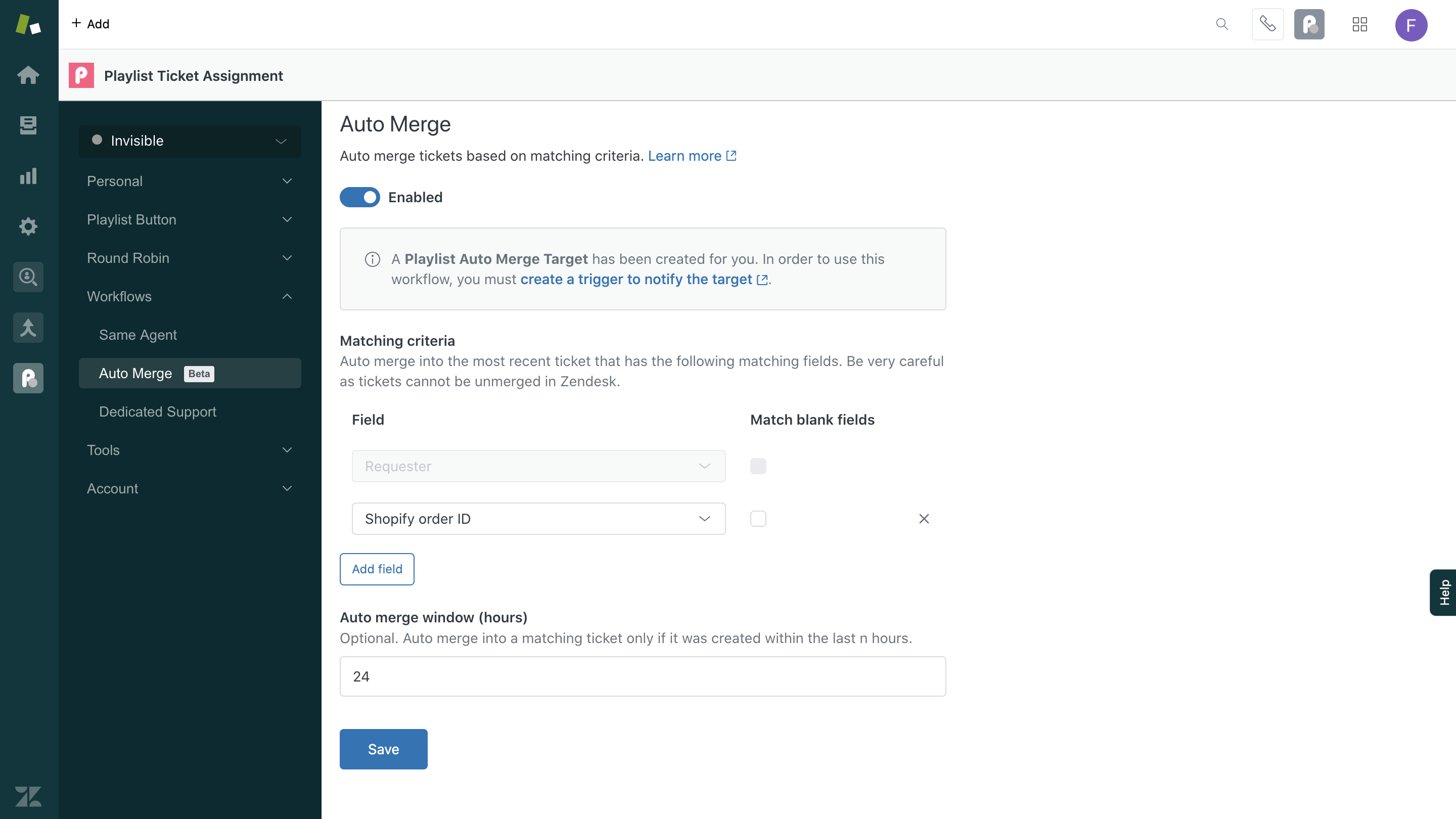 Once enabled, you can adjust settings to your team's preferences.
Matching criteria
Fields to be used for matching tickets. When triggered, the workflow searches through the requester's 100 most recent tickets, sorted by created date. The new ticket is automatically merged into the first (i.e. most recent) ticket that matches based on the selected fields. If there are no matches, the new ticket is left untouched.
Field
The matching field. Some standard ticket fields and only custom fields of the following types are available:
Drop-down
Text
Numeric
Decimal
Date
Regex
Match blank fields
If checked for a field, and that field is blank for both tickets being compared, the fields are considered matches.
For example, if you selected External ID as a field and "Match blank fields" is checked for it, two tickets with a blank External ID would be considered matches. If "Match blank fields" is unchecked, they would not be considered matches.
Auto merge window (hours)
Optionally, you can limit how far back (in hours) the workflow should look. If no value is entered, it will search through the requester's 100 most recent tickets regardless of when they were created.
3.
Create trigger to notify target
Create a trigger to notify the Playlist Auto Merge Target:
Trigger name: Playlist - Auto merge into matching ticket
Conditions (Meet ALL):
Ticket > Is > Created
Status > Less than > Solved (necessary since solved tickets cannot be merged into other tickets)

Your custom field (if applicable) > Present

(i.e. only fire the trigger if custom field is populated)
Actions:
Notify target > Playlist Auto Merge Target
In order to save, you'll have to remove the empty URL parameters (key and value) that's auto-generated. Just click on x to remove it.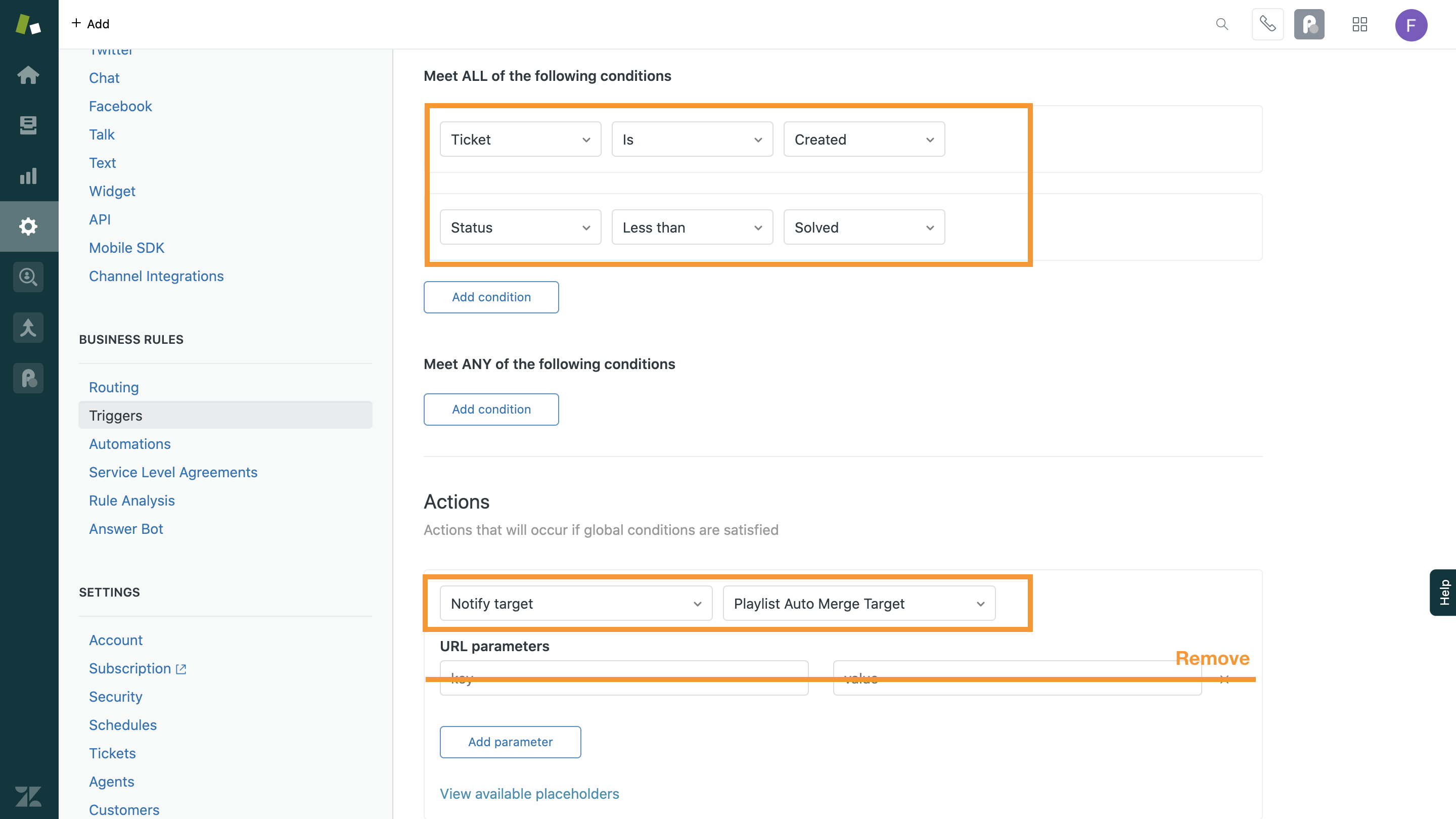 Avoiding trigger loops
To avoid trigger loops, please ensure that you only notify the target once within the lifecycle of each ticket. Using the Ticket > Is > Created condition in your trigger (i.e. only firing the trigger when a ticket is created) is the easiest way to prevent trigger loops.