Round Robin quick start guide
Playlist is the easiest way to set up round robin ticket assignment in Zendesk. Watch the demo or follow the steps below to set up round robin in just a few steps.
Authorize API access
Once you have installed the app, go to Playlist setup (P icon on the left navigation bar) and click on Authorize.
Enable Round Robin
Playlist setup > Round Robin > Settings. Click Enabled.
Create your first queue
Playlist setup > Round Robin > Queues. Click on "Add queue."
Select an unassigned tickets view that will serve as your queue and click on "Create rule."
Routing model
Choose a routing model (distribution type, algorithm)
Round Robin - equally distribute tickets to agents in a circular fashion
Least Active - route to the agent with the least amount of open tickets first (i.e. load-balanced routing)
Rotate between
Choose to rotate between agents or group members.
Agents - specify agents that should receive tickets from the queue
Group members - specify groups that should receive tickets to reduce the overhead of managing queues
Then, select the groups or agents that should receive tickets from the queue. Save.
Team dashboard, agent status
Round Robin will only route tickets to agents that are set to Online. As an admin or manager, you can update the status of each team member with the Team dashboard.
Playlist setup > Round Robin > Team
Each agent also has the ability to update their own status.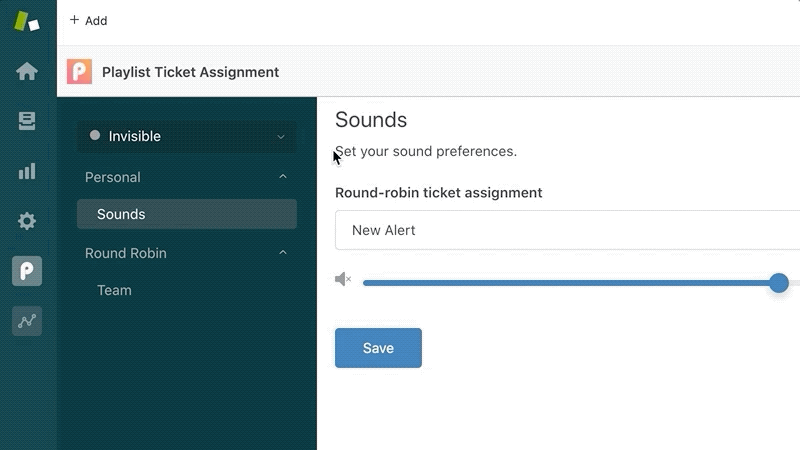 That's it! There are more advanced settings that you can play around with, but that's all you need to get started with Round Robin.
Scheduled job
Our scheduled job runs every minute and will automatically assign tickets to available agents for each queue.
Empower your agents with the Playlist Button
If Round Robin isn't the right fit for your team, you may want to consider using the Playlist Button instead. It empowers your agents to assign tickets to themselves with the click of a button.
The Playlist Button systematically prioritizes tickets, based on rules that you define, and assigns the appropriate tickets to the agent (who clicked on the button). It's an alternative to Zendesk's Guided mode and the perfect tool for teams that prefer a "first come, first serve" model.
Here's a quick demo:
Advanced workflows
Playlist includes several other features, but here are some advanced workflows that can help with your automatic ticket assignment use cases:
Reporting on Playlist Assigned
Playlist timestamps every ticket that is automatically assigned by the app using custom ticket fields. You can easily report on these fields to measure the adoption of Playlist with tools like Explore or Looker. See How can I report on Playlist to learn more.
Agent Availability Reports
Playlist setup > Round Robin > Reports
With Playlist, you'll also have access to agent availability reports (e.g. total time online), which you can run directly in the app.
Agent availability by date
Total time spent in each status grouped by day, week, or month. You'll also be able to see each agent's first online time and last online time.
Agent availability logs
Detailed report of each status change.